EBH Honda Accessories
Welcome to EBH Accessories, your one stop online destination for all of your discount Honda Accessories.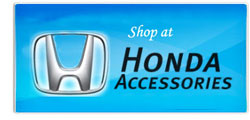 If you're looking to accessorize a new or pre-owned Honda or just need replacement parts for a restoration project on your vintage Honda then EBH Accessories delivers! We provide a huge selection of Genuine Honda Accessories for most Honda models. We will ship directly to your home or office all at incredible prices. Order your Genuine Factory Accessories either online or by phone today!
Honda owners recognize their vehicle's performance needs the style to match. From nose mask to rear wing spoilers, EBH Accessories is a leader in selection and superior quality and delivers it to you at a discounted price. Honda remains one of the most accessorized and popular vehicle manufacturers on the road today and the need to provide quality, affordable accessories is why were are here.
If you're having trouble finding Honda merchandise then take some time and shop our site! Whether you have an Accord, Civic, CRV, Fit, Insight, Pilot, or even the new Crosstour we are your online resource for discounted Honda Accessories.